'Most of the time they put you in a scarf' – why black actors struggle in the hair-and-makeup chair
A new campaign aims to tackle the lack of experience among beauticians on set, which sees black actors frequently asked to do their own hair and makeup.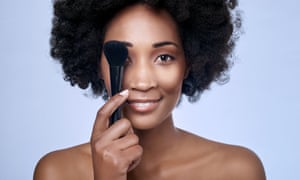 The campaigners aim to expose the mistreatment of black actors. Photograph: Warren Goldswain/Getty Images/iStockphoto
As if the scarcity of roles for black actors in Britain wasn't bad enough, those who are cast in TV productions often find their hair and makeup needs are being ignored or at worst abused.
A new campaign to tackle inequality in behind-the-camera treatment has been launched by Peggy-Ann Fraser, a black actor. She is aiming to expose the mistreatment of black actors, and calling for better hair and makeup training, as well as greater employment for black hair and makeup artists.
Fraser, who has appeared in TV dramas including Casualty and The Bill, claims that black actors are frequently asked to do their own hair and take their own makeup on to sets. "When I'm on a set, most of the time they do not have experience doing afro hair. Sometimes they try and work around it, but most of the time they will put you in a scarf or suggest you get your own haircut.
"There have [also] been many occasions when I have been left looking ashen-faced or with a grey complexion because the wrong colour foundation and face powder have been used by makeup artists."
Fraser, who is on the black-members committee of the broadcasting union Bectu, has also won the backing of Equity, the entertainment-industry union, to examine the issue and decide what action to take. Equalities and diversity organiser Hamida Ali said: "Equity members met with Bectu's hair-and-makeup branch last October and drew up a plan of action including looking at training and workshops, policy and guidance and the diversity of hair and makeup professionals."
Equity and Bectu aim to "plug the knowledge gap that exists among industry professionals about black skin and hair", through a week-long pilot or taster course due to start towards the end of 2017, led by black makeup and hair-care specialists.
Black models are also unhappy about the discriminatory treatment they receive at the hands of hairstyle and makeup crews. Model Pippa Christian wrote on Instagram in March that she'd had enough of the industry not being able to "handle" her afro. Meanwhile, model and presenter Lilah Parsons revealed on Twitter that model agencies often sent out casting calls with the proviso: "Hair type: all except afro."
Employment laws and social media have made it easier for black actors and models to publicise the demeaning practices they encounter and call out industry racism. But such negative experiences still make actors feel unwelcome, says Fraser. "You don't feel part of a production or included. There is a real opportunity to bring about much needed change".